Bear Hunting
Camp Narrows Lodge offers trophy black bear hunts in Ontario, Canada.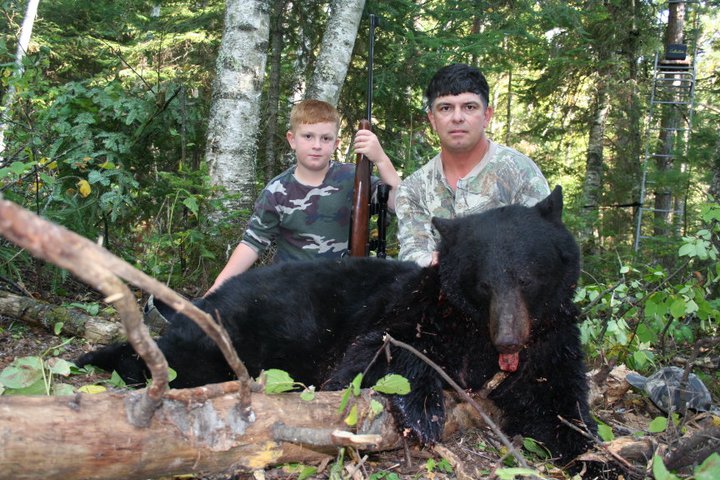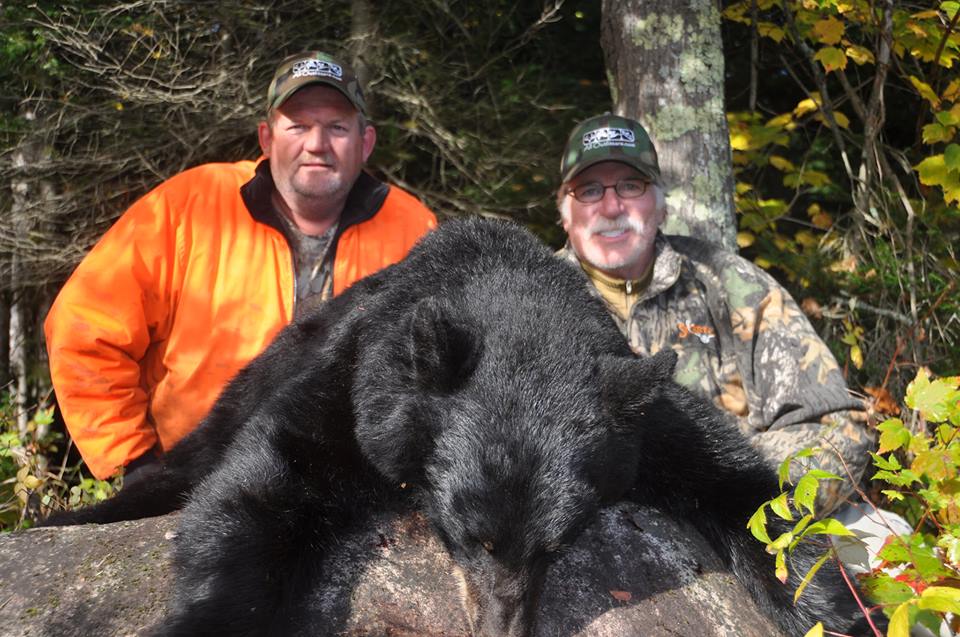 Black Bear Tips and Techniques

Scent is key. When figuring out where to place your bait, understand what your predominant wind is. Bears need to smell whatever you are putting out there.  Beaver pond areas work very well for us or along creek beds. Bears love eating beavers, so they are already attracted to these areas. Also grasses are a big part of their diet so this is also found in abundance around a pond.
Tree stand placement is key as well. We hunt off the lake so most of the bears are coming from the bush side.  You need  an open area to make sure you get a good shot.
Anything that smells sweet, rotten etc all work. We use dog food covered with molasses,  oats covered with grease  and pastries if you can get them. A stink barrel is something you need as well. Remember, it takes many years for a sow to become a breeder. So let them be. Always keep an eye for cubs. They almost always come in first. They are fun to watch.
About Ontario Bear Hunting
Black bears hold a special position in both the hearts and the ecosystem of Ontario. It's no surprise that their populations are guarded so carefully through measures of adaptive management and selective harvesting. Current populations are estimated at 100,000 animals, one of the largest populations in North America.
Guiding principles for creating sustainable populations have been mapped out by the Ministry of Natural Resources. For one, it is crucial to establish a harmonious existence between humans and bears. Public education and stewardship efforts in the province are creating a sense of their value to the natural system, as well as establishing a respectful regard for these animals.
Information for Hunters
Black bear hunts begin in mid-August and end in November when the bears have entered their winter dens. Black bear hunters know that dispatching a trophy bruin is not only a matter of matching brawn, but also wits. The black bear's intense sense of smell and hearing make them ideal for the careful hunter, those looking for a challenge and a truly impressive trophy. Male black bears range from 250 to 600 pounds (114 to 272 kg), females from 100 to 400 pounds (45.4 to 182 kg) making these animals formidable quarry. Even so, the wait can be long, and patience and focus are all-important.
Non-resident black bear hunters are warmly welcomed in Ontario, but there are a couple of things they should plan for when considering their next northern hunt:
Most non-residents are required to contract the services of a tourist outfitter, guide or air operator licensed (by MNR) to provide bear hunting services to non-residents.
All black bear hunters hunting during the black bear season are required to wear hunter orange except when in a tree stand.
Hounds must be licensed.
Licences and regulations (per the Ontario Hunting Regulation Summary) must be met.