Cabin Rentals
Kick Back and Relax in a Comfy Cabin.
Our lodge is in operation from May to October. All the facilities at Camp Narrows are fully modernized and offer a panoramic view of Northwest Bay. There is nothing quite like a Northwestern Ontario sunset. To begin the windup of your day, enjoy one of our fine meals while viewing the magnificent scenery from our glass-walled dining room.
Camp Narrows Lodge boasts fully modern, deluxe facilities. You will find the ultimate in relaxation in our clean and comfortable cabins. The carpeted floors, electric lights, and hot and cold running water make our cabins feel like the perfect home away from home. We are able to accommodate small groups of two all the way up to a party of forty. Every cottage comes equipped with a gas stove, electric refrigerator, utensils, dishes, and all linens. For your added convenience all cabins have showers and flush toilets.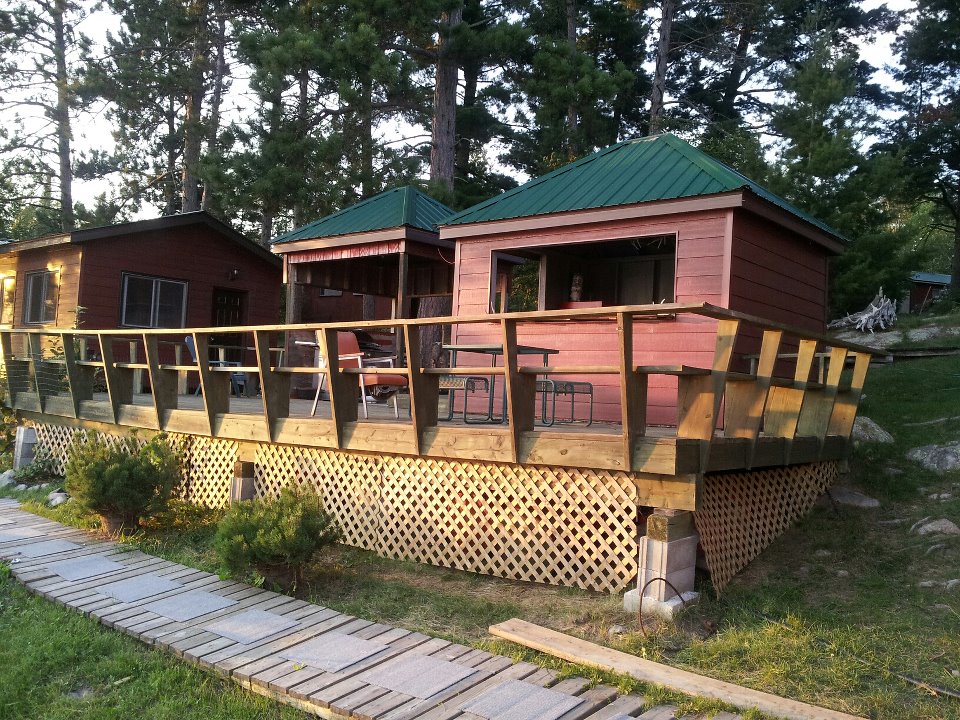 You'll love our lodge. The centerpiece of this facility is the dining room with a spectacular view overlooking Rainy Lake. Inside you will find a game room complete with a pool table, foosball, big screen television connected to the outside world by satellite, shuffleboard, and board games for your enjoyment. For a perfect end to the day, nestle comfortably in front of the fireplace or gaze at the beauty of the night sky from our outdoor hot tub.
Camp Narrows Lodge offers the family a place to relax and regroup. Our boat-in location ensures you access to pristine and undisturbed wilderness tracts. Rainy Lake is the perfect location for anglers of all skill levels. We recommend that you take the time for a few hikes on our acres of unspoiled wilderness. The flora and fauna of Ontario's boreal forest simply must be seen to be fully appreciated. Don't forget your camera either. There will be opportunities to photograph some of northwestern Ontario's interesting wildlife. Swimming is always a favourite with our visiting families. We have a paddle boat or canoe available for your use to add to your recreational fun.
Camp Narrows Lodge Cabin Rentals
Cabin #___
Sleeps ___ # of people
  All the cabins are insulated and feature:

Full bathrooms
Large living areas
Full kitchens (including all pots, pans, etc.)
Full sized electric refridgerators with freezer
Propane stoves/ovens
Hot and cold running water
Pellet stoves for heat
Convenient access to the docks
Beautiful views of Rainy Lake

 Cabin #2
 Sleeps 5 – 6 people
 Cabin #3
 Sleeps 6 – 8 people
 Cabin #4
 Sleeps 6 – 9 people
 Cabin #5
 Sleeps 4 – 6 people
 Cabin #6
 Sleeps 2 – 4 people
 Cabin #7
 Sleeps 2 – 4 people
 Cabin #8
 Sleeps 4 – 6 people

To book your fishing adventure a deposit of $200.00 per person is required. All May 15 to July 15 reservations require a $300.00 deposit. For hunting packages a deposit of $1000.00 per person is required. Full deposits are required to confirm all bookings. The balance of your vacation cost is due upon arrival.
No refunds are issued after March 1st.
Note: All Vacation Packages above include transportation to/from landing, lake orientation, nightly fishing or hunting tutorials and fish cleaning tutorials.