Crappie Fishing
Rainy Lake slab crappies are at the end of their northern range. We have great forage in the lake, including smelt, which puts shoulders on these crappies. Truly Slab crappies in the 10 – 19 inch range can be caught throughout all seasons.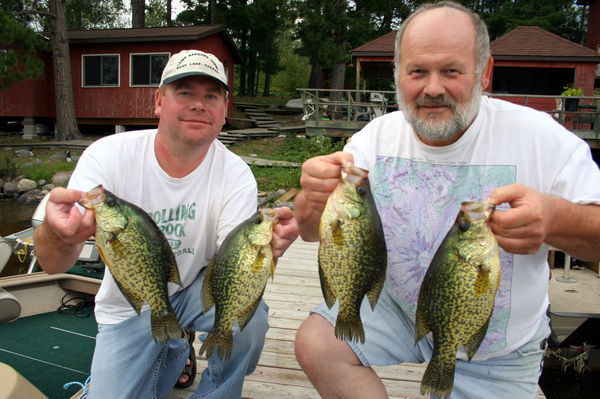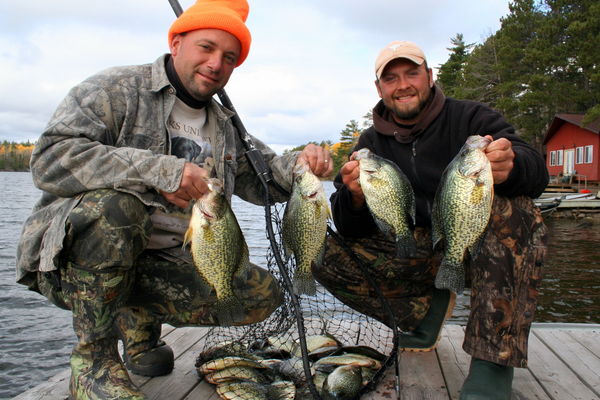 Crappie Tips and Techniques
Spring fishing for crappies is done in the shallower bays, located just off the main lake. As soon as the ice goes off, many crappies move up into the shallow, warmer waters. Fly fishing, casting little bobbers, light tubes etc can all be used at this time of year. Many rock piles are located in and around the shallower bays, and can all be targeted for slab Rainy Lake crappies. Northern Ontario weather, is of course little cooler than the waters found in Minnesota. Our ice out is usually the beginning of May, so the fishing starts just after that.  Fallen trees, stumps and the rock are all good places to target. Some fish stay in the deeper water out in the main bay. You can also jig for these during the spring. Just ask us, we will give our guests all the pointers needed to get into some slabs.
Fall fishing on Rainy Lake is truly a crappie fishermen's outdoor vacation. The Crappies school up in the thousands. They hang out in the main bays in water 20 – 40 feet deep. Jig fishing is the method to catch them. Dropping down into a large school of fish and giving it a little jig tipped with live bait or a small plastic will bring you great success. the schools of fish can be 10 feet thick at this time of year.
Winter fishing is another option to catch crappie. Ice fishing for slab Rainy Lake crappies is awesome.
About Ontario Crappie Fishing
Although Ontario has a long list of panfish that offer dependable action for the whole family, the two species most sought after are the yellow perch and black crappie.
Black crappie travel in schools during the summer and winter. Open-water anglers get their first crack at them as ice clears from backwaters in April or early May and the fish move inshore to feed. Top spots include man-made boat cuts and canals and shallow bays with cover (wood, weeds, docks). More fish move in by late May and June to spawn. In summer, the fish are along deep weedlines or suspended farther out. They'll hit during the day, especially during overcast weather, but morning and evening are prime times.
Black crappie and other panfish will take small live minnows, spinners, panfish jigs, mini-crankbaits, and streamer flies.
Information for Crappie Anglers
The Ontario record crappie is 3.78 lbs. Average size on most Northwest Ontario waters crappies are found in are 1/2 to 1 lb.
Crappie spawn in shallow weedy habitats when water temperatures reach 65-68 degrees, usually during the months of May through June.
Throughout much of the open water and ice fishing seasons, crappie suspend off shore, but move into the edges of weedlines and shallow cover to feed in low light conditions.
Crappies are found in the lower regions of Northwest Ontario.
Regulations vary by specific zones and waters throughout Ontario. Please adhere to regulations for your specific waters through your purchase of an Ontario Sport Fishing License or Conservation License for resident and non-resident anglers.