Crappie
Located on the border of Minnesota and Ontario, Rainy Lake slab crappies are at the end of their northern range. We have great forage in the lake, including smelt, which puts shoulders on these crappies. Thanks to the smelt population, truly slab crappies in the 10 – 19 inch range can be caught right in front of the resort. Spring or fall is the best time to come and catch crappies with Camp Narrows.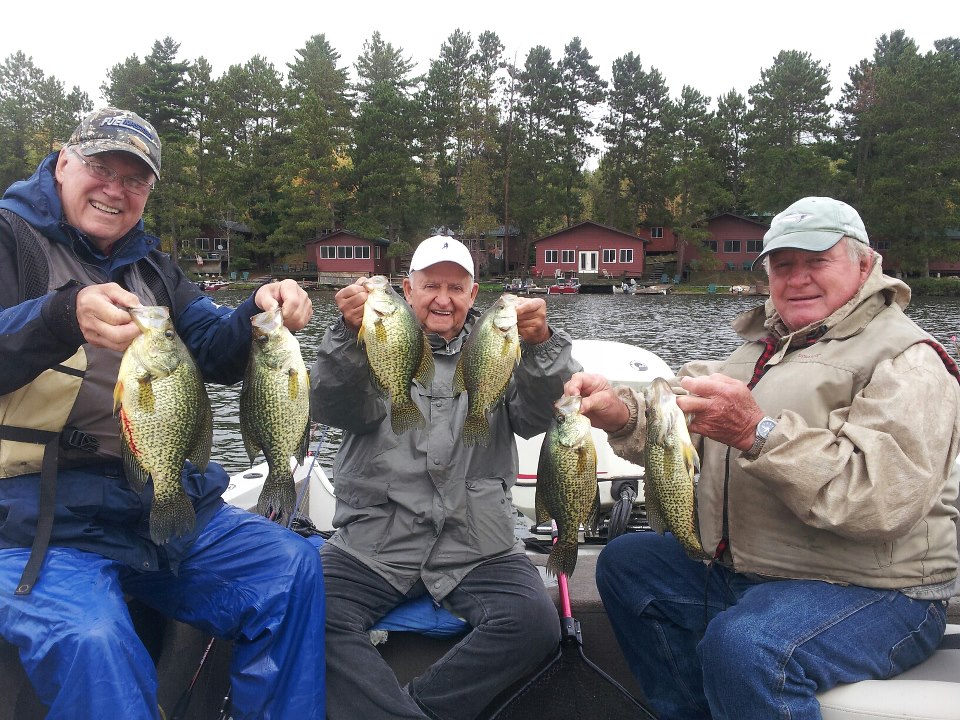 Spring or Fall, Rainy Lake Crappie Fishing is Awesome
Spring fishing for crappies is done in the shallower bays, located just off the main lake. As soon as the ice melts, many crappies school up into the shallow, warmer waters of sun exposed bays. Fly fishing, casting small slip floats, and fishing with small plastics can all be used at this time of year. Many rock piles are located in and around the shallower bays, and can all be targeted for crappies. Northern Ontario weather is of course a little cooler than the waters found in Minnesota. Our ice-out is usually the beginning of May, so the best spring fishing starts just after that. Fallen trees, stumps and rock are all good places to target.
Fall fishing on Rainy Lake is truly a crappie fisherman's outdoor vacation as fish school up in the thousands. They suspend in the main bays in water 20 to 40 feet deep. Jig fishing is the method to catch them. These schools of fish can be 10 feet thick at this time of year. Winter fishing is another option to catch crappie. Ice fishing for crappies is a favorite as well. Our guide service can take you anywhere on the lake or into some of the surrounding lakes in Northwestern Ontario for crappies.
HOUSEKEEPING PLAN


Includes lodging with stove, fridge, linen and utensils. Must book
weekly, Saturday – Saturday. Cabin only, you must furnish your
own boat.

 Cabin rate/person
 $500.00+13% tax
$565.00/person
BOAT COSTS (for 7 days Saturday – Saturday)

16′ Deep V Lund, 25 hp Honda – Swivel clamp-on seats, 1 tank Gas
 $600.00+13% tax
 $678.00
 (Split by # of people in boat + cabin rate = cost/person)
For example 2 people per boat, $678.00 divided by 2 $339.00+$565.00 = $904.00
Deluxe 16′ Lund, 40 hp Honda – floor, pedestal seats, depth finder,
trolling motor, livewell
 $800.00+13% tax
 $904.00
(Split by # of people in boat + cabin rate = cost/person)
For example 2 people per boat, $904.00 divided by 2 $452.00+$565.00 = $1017.00
FISHING-AMERICAN PLAN (minimum 3-day stay)

Includes lodging, meals, boat, motor and 1 tank of gas. per day,
per person.

 with regular boat
 $200.00+$26.00tx
 $226.00/day
 with Deluxe Boat
 $225.00+$29.25tx
 $254.25/day
 with own boat
 $150.00+$19.50tx
 $169.50/day
 Children under 16
 $150.00+$19.50tx
 $169.00/day

Housekeeping plan add $565.00 per person