Duck, Goose, Waterfowl & Grouse
Camp Narrows Lodge offers waterfowl hunters an incredible unguided or guided duck or Canada goose hunting outfitter package. Ontario duck hunting is awesome because waterfowl flock to our area of Northwestern Ontario to feed on the abundance of wild rice. Our area of Canada has a large population of local ducks and geese due to our convenient location along the migration routes of puddle and diver ducks. We are a boat-in resort, so we are located just minutes away from prime duck hunting areas. Each bay is a little different. But one thing is for certain, they all contain wild rice.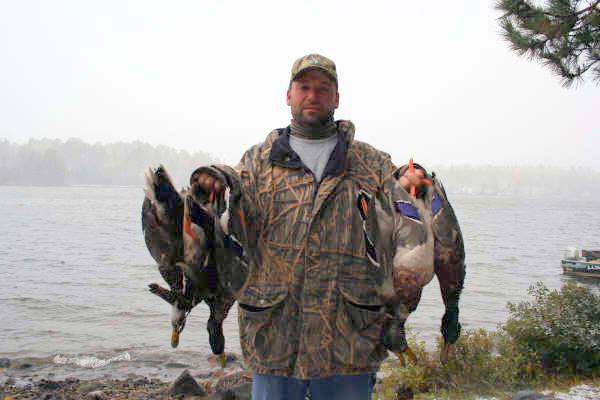 Our guides will organize duck hunts that will suit your needs. Hunting ducks in Canada is a little different than anywhere else. The miles of unspoiled wilderness provides plenty of open space and very little competition for blind areas. Our biggest problem is that we do not have enough duck hunters to move the ducks around, if you can call that a problem!
Hunters can set up blinds along the miles of shoreline in the rice bays or just pull boats up into the tall cattails. All of our hunting bays are located close to the resort, and we will show you great spots to set up your decoys. We also have many beaver ponds located just off the lake, so hunters can also walk to these areas for some afternoon jump shooting. Ruffed grouse can also be spotted while walking to the ponds, and with miles of trails located just off the waters edge hunters have the opportunity to hunt ducks in the morning, fish or grouse hunt in the afternoon, and then go back to the rice bays for an evening duck hunt.
Canada Duck Hunting, Early Season
Duck season opens September 10th. With a large local duck population, early season is a great time for hunting:
Mallards

Teal

Wood ducks

Canadian Geese

Some diving waterfowl species
These hunts are all done over decoys in the wild rice bays or beaver ponds, located within minutes of the resort, and provide duck hunters with a great Canadian waterfowl hunting experience. Canada Goose season opens on September 1st, and hunts are usually scheduled for later in the evening, when the Canadian Geese return to the bays.
We are located right in between some of the best duck hunting bays in Northwest Ontario. Duck hunting pressure is minimal in our area. Blinds are located in and around the bays. Many of these areas are 1/4 mile wide and about 3/4 of a mile long, and about 3 to 5 feet deep. They all have channels running through them. The rice grows to be about 2 to 5 feet tall. Paddling a canoe or setting a spread just on the edge is the best way to hunt the rice bays.
Hunting at the Peak of the Fall Migration
The early season in September offers duck hunts for mallards, teal, wood ducks, Canadian geese, as well as some divers. These are all done over decoys in the many wild rice bays located within minutes of the resort.
Throughout October, the divers start to migrate south. Ringnecks, bluebills, buffleheads, goldeneyes, hooded merganser, redheads and the northern mallards all migrate through our area by the thousands. This is truly the time for fun. The sounds of a flock of ringnecks buzzing your decoys can't be beat. At this time, you set your spreads of dive decoys of the points or the mouths of the rice bays. The water depth is usually around 3 to10 feet. If the bays start to freeze, we just move out to the island points.
FALL DUCK HUNTING- AMERICAN PLAN (minimum 3 days)

includes lodging, hearty meals, boat and motor, gas.
/day/person
$200.00+26.00tx
$226.00/day
FALL DUCK HUNTING- HOUSEKEEPING PLAN (minimum 4-day stay)

 per day, per person
 $80.00