Hunting in Ontario Canada
Seasoned hunters and those new to the sport are all welcome to try a little (or a lot!) of fall hunting at Camp Narrows. We offer duck, grouse, black bear, and whitetail deer hunting opportunities. For those who just never can get enough of fishing, we make combination vacations available to our guests.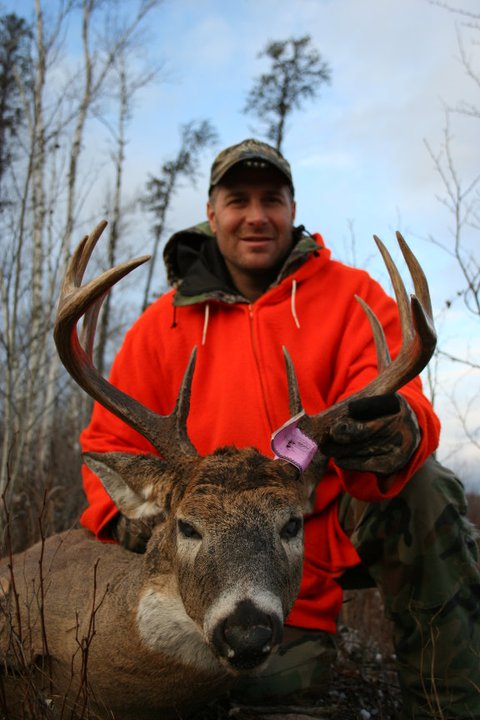 For that diehard outdoorsman, who wants to have it all, we even offer a big three combination package. Experience an unparalleled adventure with a "Deer, Duck and Fish Combo." Our area of Northwestern Ontario also offers plenty of opportunities for grouse hunting too.
Northwest Bay on Rainy Lake is a prime duck hunting area. Early in the hunting season, we are host to mallards, wood ducks, and teals in great numbers. Throughout October we see the northerns arrive. During fall, rafts of bluebills, ringnecks, buffleheads, and goldeyes will circle your decoys.
Experience the excitement and rewards of a fully guided deer hunting expeditions. We offer both tree stands and hound hunting options. Our hound hunts take place on islands or point drives, with one guide for every two hunters. Camp Narrows can offer you access to acres upon acres of undisturbed wilderness lands. These vast tracts of undisturbed land allow our guests to use tree stands in locations that have been unaffected by the ravages of the modern world. Those who can't see lake water without coming down with fishing fever can always maximize their visit by booking a combination deer hunt and fall angling vacation package.
Black bear hunters are always impressed with the size and good health of the black bear population in our area. Indulge yourself this fall and book a deluxe full-service, all the frills, American Plan black bear hunt. You can concentrate on your quarry and we will see to all the details.
You can also have a combo hunt. Add a Ontario Whitetail deer hunt or bear hunt to your duck or goose hunting package. Fall fishing on Rainy Lake is also at its prime. At Camp Narrows Lodge, you can experience almost everything the Ontario wilderness can offer.
For reservations or more information on the camp please contact us. For more information on how to improve your fishing and other general questions about Rainy Lake, please use our message board. Before you visit us, it is important to preview Ontario's fishing & hunting regulation's home page. At this site you will find everything you need to know about licensing, catch quotas and regulations.