Northern Pike
Rainy Lake's northern pike fishing is some of the best in Northwest Ontario. Casting with crankbaits, trolling almost anything, and even fly fishing for pike are very effective ways to fish Rainy Lake. If you are looking for an awesome outdoor adventure, Ontario pike fishing with Camp Narrows can't be beat.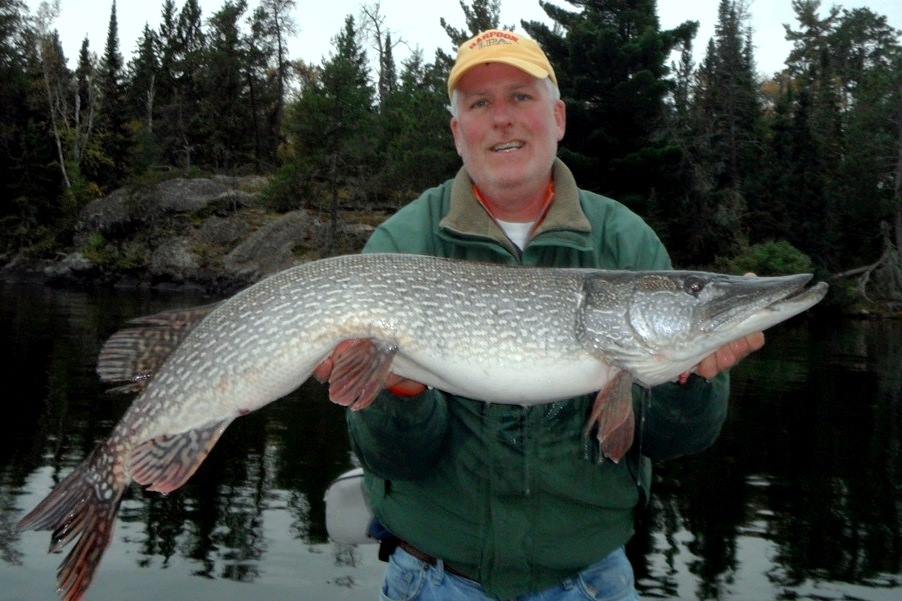 Fishing for Rainy Lake Northern Pike
Rainy Lake has some of the best northern pike fishing because of it's diverse structure. It has many shallow weedy bays, deep open water basins, several islands with shoals and long expansive weed beds. The larger pike like to hang out just inside the weed beds that have deeper water just outside of them. Trolling along the edges of these areas is very effective. Since the introduction of smelt, we now catch many pike while trolling in open water, and these fish run huge. Just off the drop offs on any reef or shoal is also another great spot to target. If you are looking for medium or smaller fish for a shore lunch or fish fry, or just for some non-stop action, the weedy bays are full of them.
We have a slot size on Rainy Lake. All anglers must release all northern pike between 27.5″ and 35.5″ . We also prefer that you release all of the trophies measuring 35.5″ and above. The slot size, combined with the abundant smelt forage, has turned Rainy Lake into a true trophy lake for northern pike. These northern pike are often deep bellied fish with heavy weights. Be prepared for a good fight!
HOUSEKEEPING PLAN


Includes lodging with stove, fridge, linen and utensils. Must book
weekly, Saturday – Saturday. Cabin only, you must furnish your
own boat.

 Cabin rate/person
 $500.00+13% tax
$565.00/person
BOAT COSTS (for 7 days Saturday – Saturday)

16′ Deep V Lund, 25 hp Honda – Swivel clamp-on seats, 1 tank Gas
 $600.00+13% tax
 $678.00
 (Split by # of people in boat + cabin rate = cost/person)
For example 2 people per boat, $678.00 divided by 2 $339.00+$565.00 = $904.00
Deluxe 16′ Lund, 40 hp Honda – floor, pedestal seats, depth finder,
trolling motor, livewell
 $800.00+13% tax
 $904.00
(Split by # of people in boat + cabin rate = cost/person)
For example 2 people per boat, $904.00 divided by 2 $452.00+$565.00 = $1017.00
FISHING-AMERICAN PLAN (minimum 3-day stay)

Includes lodging, meals, boat, motor and 1 tank of gas. per day,
per person.

 with regular boat
 $200.00+$26.00tx
 $226.00/day
 with Deluxe Boat
 $225.00+$29.25tx
 $254.25/day
 with own boat
 $150.00+$19.50tx
 $169.50/day
 Children under 16
 $150.00+$19.50tx
 $169.00/day

Housekeeping plan add $565.00 per person