Smallmouth Bass Fishing
Smallmouth Bass fishing on Rainy Lake is some of the best in Northern Ontario, if not North America. The structure of the north arm of Rainy Lake is ideal habitat. Smallmouth bass fishing on Rainy Lake is truly an avid fisherman's outdoor adventure.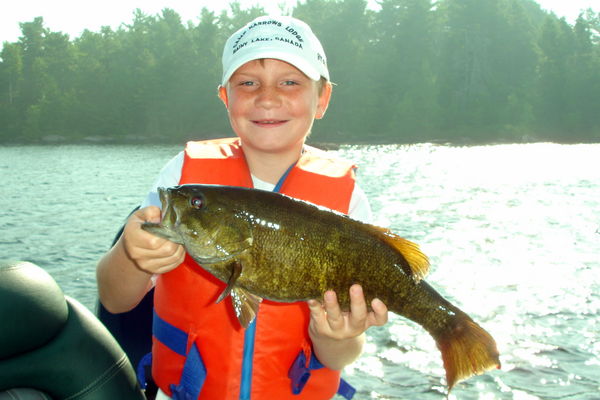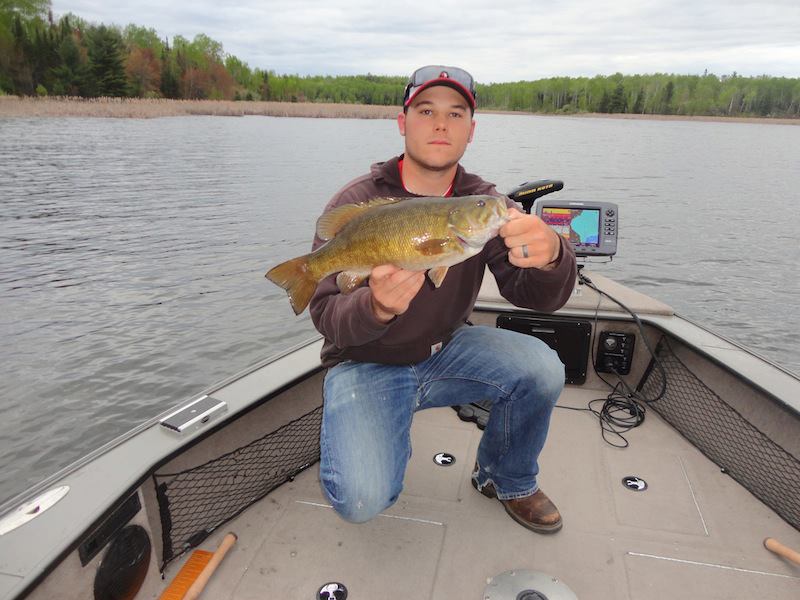 Smallmouth Bass Tips & Techniques
Spring fishing (pre-spawn) in May and early June is done off of any point or reefs with some sandier areas in behind.  The smallmouth bass congregate in water around 14′ -18′ deep,  waiting for the water temperature to warm up. This is the time when tube jigs and grubs work the best. Plastics can also be thrown to the shores.
When the ice goes off the lake, the smallies move up into the very shallow water and start to feed. Slow moving plastics thrown shallow and retrieving slowly back is productive. During the first couple of weeks in June, the spawn is on. We prefer you do not target bedding areas. Fishing on the outer edges or points adjacent to these areas will pay off.
During the summer months, the fish are found in many areas of the lake. Some school up and chase the smelts in the deep water's away from the structure. Others can be found in the huge cabbage beds in shallower water. Depending on the weather of the day and evening, top water bites are awesome. Windier days weightless plastics or weighted tubes or grubs can be thrown towards the wavy points or banks. Jigging in deeper water, trolling, fly-fishing, crankbaits, etc can all be used. Just ask us, we will be sure to tell you what is working at the time.
Fall fishing, probably the best of the year, is done on the sunken humps and rocky deeper points. The smallmouth school up in the hundreds. This is also the time of year when you really know what "fish eating smelt" is all about.
About Ontario Smallmouth Bass Fishing
Smallmouth bass can be found in thousands of Ontario's rivers, creeks, and lakes. Smallmouth are most active from late spring to late autumn and can usually be found in more open water or along rocky points, drop-offs, or shoals.
When targeting smallmouth try curly-tailed jigs, crankbaits, shallow-diving spinnerbaits, in-line spinners, streamer flies, or crayfish imitations. Live bait is also effective. Leeches, minnows, and juicy night crawlers rigged beneath a float or with split shot on the bottom will draw strikes. Smallmouth are particularly fond of crayfish, especially soft-shells that have just molted.
Information for Smallmouth Bass Anglers
The Ontario smallmouth bass record is 9.84 pounds. Average size, depending upon body of water and type of fishery tends to be between 1 to 4 pounds.
Smallmouth bass usually live in deeper water, often on rocky habitats, sand, or gravel areas. They prefer water temperatures under 70 degrees, with bigger fish often preferring cooler water above thermoclines.
Smallmouth bass spawn in late May and June on their nests. They deposit their eggs in shallow gravel and rocky areas. Males guard the eggs and fry. We strongly recommend anglers to not bed fish.
Smallmouth bass are most common in the southern areas of the province and along the north shore of Lake Superior.
Rainy Lake has a mandatory CATCH & RELEASE policy.
Regulations vary by specific zones and waters throughout Ontario. Please adhere to regulations for your specific waters through your purchase of an Ontario Sport Fishing License or Conservation License for resident and non-resident anglers.