Smallmouth Bass
Rainy Lake's smallmouth bass is some of the best in Northern Ontario, if not North America. The structure of the north arm of Rainy Lake is ideal bass habitat. Smallmouth bass fishing on Rainy Lake is truly an avid fisherman's outdoor adventure.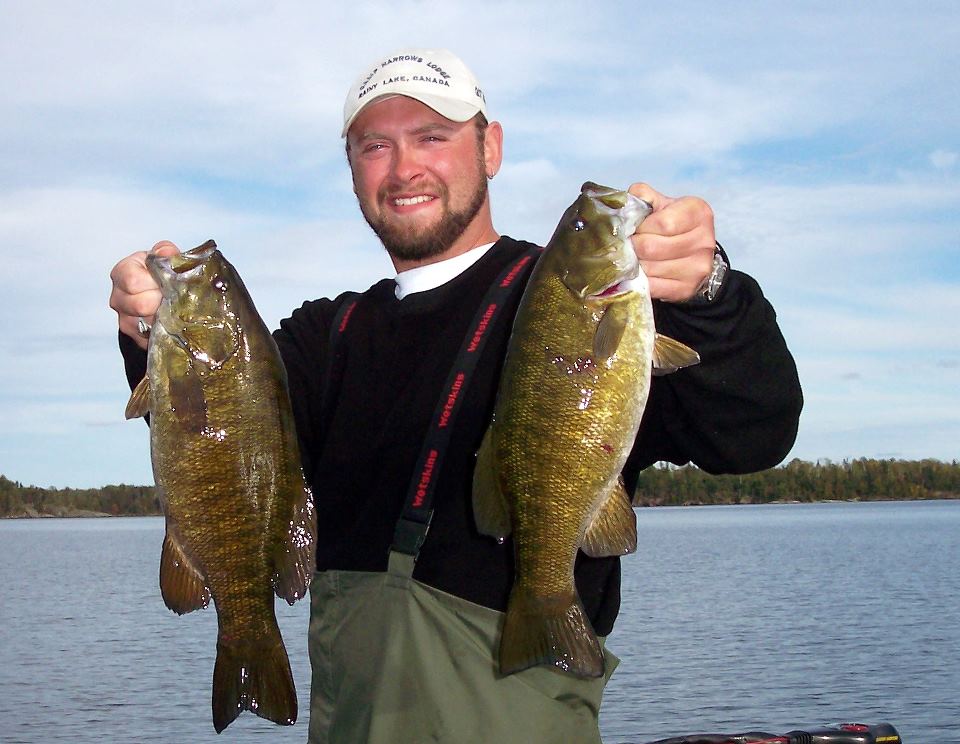 Rainy Lake's Smallmouth Fishery, Rated Amongst the World's Best!
The structure of the north arm of Rainy Lake is ideal for smallmouth fishing. There are hundreds of islands with baseball to basketball sized boulder shoals and reefs coming off of them. Large areas of cabbage and pencil weed alongside these shoals and reefs create unbeatable habitat. Crayfish, baitfish of all kinds, and especially smelt are the main forage.
Spring fishing (pre-spawn) in May and early June is done off of any point or reefs with some sandier areas in behind.  Fish congregate and stage in water around 14′ -18′ deep,  waiting for the water temperature to warm up. This is the time when tube jigs, grubs, and jerkbaits work best. Plastics can also be thrown to the shores. When the ice goes off the lake, smallmouths move up into the very shallow water and start to feed. Slow moving plastics thrown shallow and retrieving slowly back is productive. During the first couple of weeks in June, the spawn is on. We prefer you do not target bedding areas. Fishing on the outer edges or points adjacent to these areas will pay off. Fish must be released very quickly.
During the summer months, the fish are found in many areas of the lake. Some school up and chase the smelts in the deep water's away from the structure. Others can be found in the huge cabbage beds in shallower water. Depending on the weather of the day and evening, topwater bites are awesome. Windier days weightless plastics or weighted tubes or grubs can be thrown towards the wavy points or banks. Jigging in deeper water, trolling, fly-fishing, casting crankbaits and other methods can all be used.
Fall fishing, probably the best of the year, is done on the sunken humps and rocky deeper points. This is when Rainy Lake fishing really begins to shine. The smallmouth school up in the hundreds. This is also the time of year when you really know what "fish eating smelt" is all about. The bellies on these fish are incredible. Weights in the 3 – 5 lb range are average, and 5 to 7 pounders are also fairly common. A 19 inch fish on Rainy Lake is now in the 4 to 4.5 lb range.
Our catch-and-release policy on smallmouth bass will ensure that Rainy Lake's North Arm will continue to have a world-class bass fishery.
FISHING – HOUSEKEEPING PLAN


Includes lodging with stove, fridge, linen and utensils. Must book
weekly, Saturday – Saturday. Cabin only, you must furnish your
own boat.

Cabin rate/person
$550.00+13% tax
$621.50/person
FISHING-AMERICAN PLAN (minimum 3-day stay)

Includes lodging, meals, boat, motor and 1 tank of gas. per day,
per person.

with Deluxe Boat
$240.00+$31.20tx
$271.20/day
with own boat
$160.00+$20.80tx
$180.80/day
Children under 16
$160.00+$20.80tx
$180.80/day
BOAT COSTS (for 7 days Saturday – Saturday)

17′ Deep V Lund, 25 hp Yamaha 4 Stroke Swivel clamp-on seats, 1 tank Gas
$700.00+13% tax
$791.00
(Split by # of people in boat + cabin rate = cost/person)
For example 2 people per boat, $678.00 divided by 2 $339.00+$565.00 = $904.00
Deluxe 17-8′ G3, 50 hp Yamaha Casting Decks, pedestal seats, depth finder, trolling motor, 2 livewells and gas.
$900.00+13% tax
$1,017.00
(Split by # of people in boat + cabin rate = cost/person)
For example 2 people per boat, $1,017.00 divided by 2 $508.50+$621.50 = $1,130/person/week.