Walleye Fishing
Rainy Lake has turned into an incredible trophy walleye lake due to excellent habitat and abundant protein-rich forage species. The structure of the lake makes it ideal walleye habitat which consists of deep drop offs, sunken reefs, gravel shoals, and long weed lines.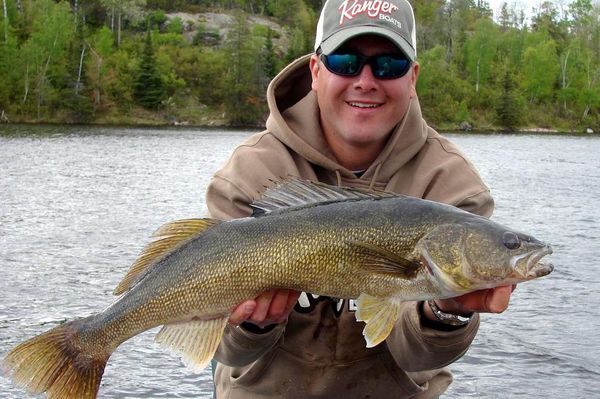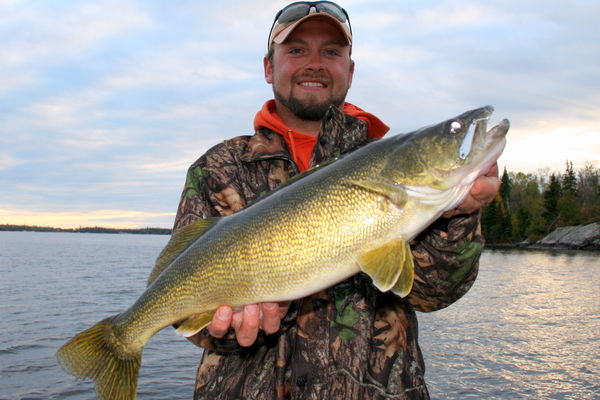 Walleye Tips and Techniques

Rainy Lake has some of the best walleye fishing because of it's diverse structure. It has many shallow weedy bays, very deep sections, many islands with shoals and long weed beds.
Walleye are most active during spring and fall. It's best to fish for them at night, on overcast, windy days, or in stained water, as the walleye's eyes are specialized to help the fish feed in low-light conditions. Many anglers catch walleye by trolling after dark with crankbaits along weedlines, rocky points, and over sunken reefs. Some of the largest walleye are caught this way during evenings of a full moon.
We have a slot size on Rainy Lake that is 13 ¾ – 173/4. The limit is one fish/day and a possession limit of 4. The introduction of smelt into the lake has made the walleye huge. Most of the fish caught are above the keep slot. Many fish in the 26 – 32 inch range are caught.
About Ontario Walleye Fishing

Ontario is walleye country, where anglers can find these prized game fish province-wide in abundance and with frequency. On whichever waterway they're caught from, a traditional shore lunch awaits!
During daytime hours, walleye can often be found in deeper water over rocks and in weedy cover. Then, one of the easiest and most effective tactics is to drift and jig just off bottom over likely cover until you locate a school. Some anglers prefer to troll using spinners, spoons, and deep-running crankbaits. Others specialize in the delicate jigging presentations with livebaits or artificials, or casting with minnowbaits and plugs.
Walleye are a schooling fish, so it's a good idea to throw out a marker once the first fish is caught. Once located, casting to the school can be quite productive.
Information for Walleye Anglers

The Ontario record is 22.25lbs. Average size on most Ontario waters is between 1.5 and 3 pounds. However, it is possible to catch fish surpassing 10 pounds from most Ontario waters.
Walleye prefer stained waters in the 60 to 70 degree temperature range, and prefer a hard bottom substrate that is comprised of rock and gravel. Additionally they will frequent weedbeds and bays in shallower, fertile lakes.
Walleye spawn following ice-out along windblown rocky, gravel shorelines, as well as creek and river inlets with hard bottom and moderate gradient. Walleye are prolific breeders in Ontario and scatter their eggs at random.
Walleye range extends throughout Ontario, making them the most abundant gamefish species in the province.
Regulations vary by specific zones and waters throughout Ontario. Please adhere to regulations for your specific waters through your purchase of an Ontario Sport Fishing License or Conservation License for resident and non-resident anglers.