Walleye
Rainy Lake's walleye fishing is some of the best found in Canada. Within minutes away from Camp Narrows, you can fish for trophy Ontario walleye. If you wish, our Rainy Lake guide service can show you the best deep water structure or shoreline points to target for some awesome walleye action.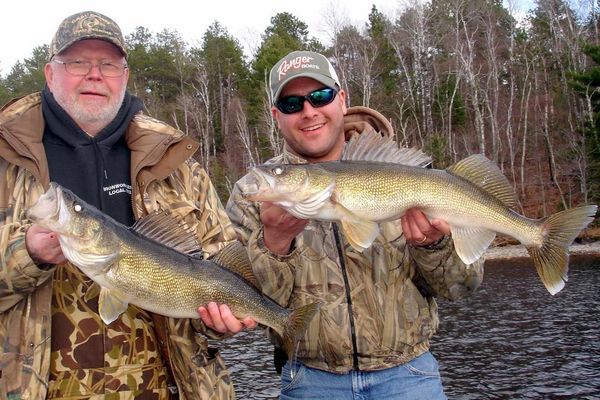 Walleye fishing on Rainy Lake
We have a slot size on Rainy Lake that is between 13 ¾ – 17 ¾ inches. The limit is one fish per day and a possession limit of 4. The introduction of smelt into the lake has reared huge fish. Most of the fish caught are above the keeper slot. Many fish in the 26 – 32 inch range are caught annually.
Rainy Lake has turned into an incredible Trophy walleye lake. The structure of the lake makes it ideal walleye habitat which consists of deep drop offs, sunken reefs, gravel shoals, and long healthy weed lines. If you prefer to fish on your own, we have great navigational Rainy Lake maps, which we can mark the hotspots.
If you prefer to have guide fishing, our Rainy Lake Guide Service can take you out in either our 21′ deep V aluminum Triton with a 225 Evinrude, or our 20′ Princecraft with a 90 Yamaha tiller. Either boat can get us to the best fishing areas from all over the north arm to Ash bay and Red Gut Bay. We even do early spring fishing for walleye or sturgeon on the Rainy River. We can get you to anywhere on the lake with comfort. The best fishing is still done within minutes of the lodge, however, as north arm of the lake has some of the best fishing in North America. Either guided or unguided, we will make sure your Ontario Walleye fishing vacation will be one to remember.
We welcome you to come and experience some premium Ontario walleye fishing.  We have combined over 35 years of our own fishing experiences  with techniques we picked up from our many guests from all over the States and Canada. We encourage all of our new guests to come and talk to us or to have a chat with any of the guests in Camp. This way we ensure everyone is catching fish.
HOUSEKEEPING PLAN


Includes lodging with stove, fridge, linen and utensils. Must book
weekly, Saturday – Saturday. Cabin only, you must furnish your
own boat.

 Cabin rate/person
 $500.00+13% tax
$565.00/person
BOAT COSTS (for 7 days Saturday – Saturday)

16′ Deep V Lund, 25 hp Honda – Swivel clamp-on seats, 1 tank Gas
 $600.00+13% tax
 $678.00
 (Split by # of people in boat + cabin rate = cost/person)
For example 2 people per boat, $678.00 divided by 2 $339.00+$565.00 = $904.00
Deluxe 16′ Lund, 40 hp Honda – floor, pedestal seats, depth finder,
trolling motor, livewell
 $800.00+13% tax
 $904.00
(Split by # of people in boat + cabin rate = cost/person)
For example 2 people per boat, $904.00 divided by 2 $452.00+$565.00 = $1017.00
FISHING-AMERICAN PLAN (minimum 3-day stay)

Includes lodging, meals, boat, motor and 1 tank of gas. per day,
per person.

 with regular boat
 $200.00+$26.00tx
 $226.00/day
 with Deluxe Boat
 $225.00+$29.25tx
 $254.25/day
 with own boat
 $150.00+$19.50tx
 $169.50/day
 Children under 16
 $150.00+$19.50tx
 $169.00/day

Housekeeping plan add $565.00 per person