Welcome to Camp Narrows Lodge. See You at the Landing!
Distance on the map from Fort Frances: Minneapolis: 290 | Des Moines 550 | Chicago: 640.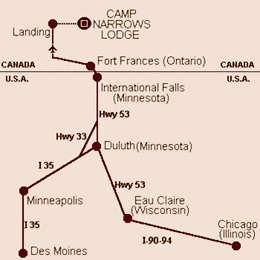 The closest point into Canada is at International Falls, Minnesota, which brings you to Fort Frances, Ontario. From Fort Frances,  take highway 11 west to Devlin (approx. 14 miles) then turn north on highway 613 and drive approximately 14 miles to the landing located at La Belle's Birch Point Camp.
When you call from Fort Frances after crossing the border we will arrange a pick up time at the landing. From the landing, you'll thoroughly enjoy the 7 mile boat on Rainy Lake to Camp Narrows.
There are daily flights arriving from International Falls via Northwest Airlines. If you decide to fly, van services are readily available at the airport. All arrangements will be finalized before you arrive.
Owner-operator Tom Pearson will be your host. Tom and the staff look forward to meeting you and your party! Please email us through the form in our contact page.
Click here to see just where you will be traveling to in Canada. We are quite happy to provide you with more details about what you will need to bring to make the most of you backwoods vacation in the Canadian wilderness. For example, in the fall it is always best to dress in layers as it can be quite cool in the early hours of the day and t-shirt weather by lunch time. Perhaps you would like to know what our guide regards as the best lures to use when northern pike angling. Just drop us a line and let us know you are interested; we are always happy to share.